THE REASON FOR PROBITY CHECKS
The Health and Social Care Board has a responsibility to gain assurance that payments received by a medical practice are fully justified and in accordance with the Statement of Financial Entitlement.
Undertaking Probity checks does not imply lack of trust in General Medical practices, but is a normal requirement to make available evidence of service provision to support financial reimbursement.
The aim of the verification exercises is to gain an assurance that the claims being submitted are proper and in accordance with the Statement of Financial Entitlement and to help decide whether fraudulent claims are being submitted.  This will normally only apply when there is evidence of unexpected or abnormal trends in claims by a General Medical practice or where specific information warrants a detailed investigation.
Departmental circular HSS(F)6/2006 instructs that each practitioner should normally receive a Probity record review once every three to five years. However, a review of available payment information held within the HSCB and the Business Services Organisation may prompt a visit to the practice sooner than this instruction.
HOW WILL YOUR PRACTICE BE NOTIFIED?
A letter will be issued to all Practice GP's detailing the date and time of the visit, the names of the visiting Probity Officers and the format of the visit and payment areas to be covered.
Attached to the notification will be a reply slip for the practice to complete and return to BSO along with a systems questionnaire to be completed either prior to the visit or during the visit.
WHAT IS THE PROCESS?
Every quarter Probity Services carry out a review of payment information in respect of payments made to all General Medical Services (GMS) contractors.
On a quarterly basis Probity Services will select a number of GMS contractors for a Post Payment Verification (PPV) visit. The following process is normally followed: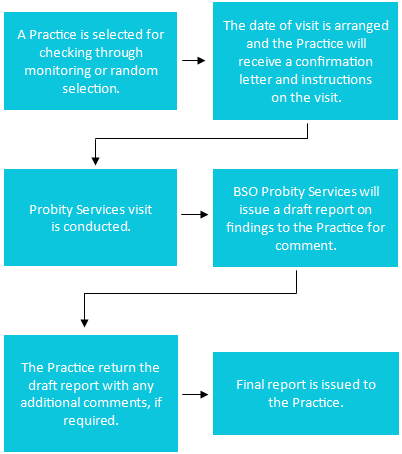 WHAT HAPPENS AT THE VISIT?
Systems Questionnaire - this enables Probity to assess the strength of systems in place at the Practice in terms of submission and completion of claim forms.
Verification of Totals - checks will be carried out to reconcile the volume of claims submitted for payment with the source documentation maintained by the Practice as back up to the claims.
Verification of Service - the Medical Adviser will check a sample of patient records to gain assurance that the service provided has met all relevant criteria for payment purposes.
WHAT HAPPENS FOLLOWING THE VISIT?
After the visit you will be sent a draft report and given an opportunity to comment on the findings.
Following this, a copy of the final report will be sent to you for your own records.
Follow up visits may be required to verify changes to procedures where recommendations have been made and accepted.
GENERAL ADVICE
Keep searches used to generate claims as these may not be reproducible later, and file these with the copy of the claim form.
If possible have the claims checked prior to submission for payment.
Choose 'Read' codes carefully to avoid ambiguity when entering procedures.
Search on very specific 'Read' codes.
Use distinct code for in Practice procedures.
Distinguish between diagnosis and procedures.
Check that you have been paid appropriately.
Most errors are due to coding and search mistakes, not fraud.