Warning over Coronavirus vaccine scams
CFS is warning HSC staff to remain vigilant as criminals begin to take advantage of the roll out of the COVID-19 vaccine to commit fraud.
Nationally, there have been thousands of reports of scam emails concerning the booking and payment for the coronavirus vaccine.
These scams look legitimate and appear to come from the NHS. Many will ask the recipient to click on a link to accept an invitation to receive the coronavirus vaccine. If accepted, the recipient is then asked to provide personal information and bank account details.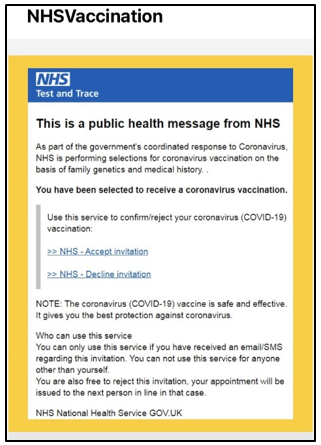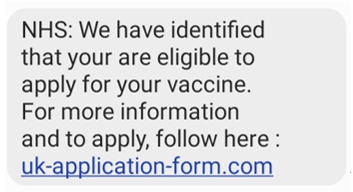 Scam emails and text messages can be made to look very authentic.
It is important to remember that in Northern Ireland, the coronavirus vaccine is free of charge and will only be available via Health and Social Care (HSC). Members of the public will be contacted by phone or in writing by their local HSC Trust or GP surgery to receive the vaccine.
You will never be asked to:
pay for the vaccine
provide your bank account or credit card details
prove your identity by sending copies of personal documents such as your passport, driving licence, bills or pay slips.
Donna Scott, Assistant Director of Counter Fraud Services said "It is unfortunate that in the midst of this pandemic there are still those who seek to profit from criminal activity by preying on the most vulnerable in our society. Falling victim to this type of scam can have a devastating impact on someone's life and some cases the victim can lose large sums of money. Most importantly the victim will not receive the vaccine as they had expected."
Donna Scott added "I encourage anyone reading this to make family, friends, neighbours and the most vulnerable aware of vaccine scams.  To be clear, the HSC will never ask you to pay for the coronavirus vaccine."
If you are suspicious about an email you have received, please forward it to the Suspicious Email Reporting Service (SERS) at report@phishing.gov.uk.
Suspicious text messages should be forwarded to the number 7726 which is free of charge.
Further information and guidance of scam emails can be found at Action Fraud and the National Cyber Security Centre.
Notes
The role of CFS is to investigate cases of suspected fraud where Health and Social Care (HSC) resources are affected, however we will continue to support and engage with other government agencies and HSC organisations to highlight and help prevent issues of this nature.